Procedure to Request Guide Services
IMPORTANT NOTICE
We need following information from you. Please fill it in attached [request form].
1)Please be sure to specify the tourist location you would like to be guided.
We can guide Himeji Castle, Ko-Ko En(Japanese garden) and Mt. Shosha.
Estimate time of our guide service:
◇Himeji Castle: 2hours~2hours30min.
◇Ko-Ko En(Japanese garden) :30min.-1hour
◇Mt.Shosha(suburbs of Himeji City): 4hours
2)The scheduled time of your stay in Himeji.
3)Whether you would like lunch with a guide or not during lunch time (the guide's lunch fee would be paid by guests.)
4) If your group consists of " 6 or more" , please make sure to accurately fill in your request form (STEP3. Details of your visit Do you have any other comments or requests?) with the exact number of individuals. Failure to do so may result in your request not being accept.
Within one week, your assigned guide will contact you by e-mail. (In the event that we cannot accommodate your request, we will also let you know.)
Please contact your assigned guide with any questions or special requests you may have.
You will meet your assigned guide at the arranged date and time at Otemon Gate (main entrance) of Himeji Castle unless other meeting arrangement are made.
For your information, You must take off your shoes at the time of entrance of main tower of Himeji Castle and Outer Wall(Hyakken- roka Corrridor)also there are 111steps to the top of main tower.
When you would like to go to Mt. Shosha, you would need hiking shoes.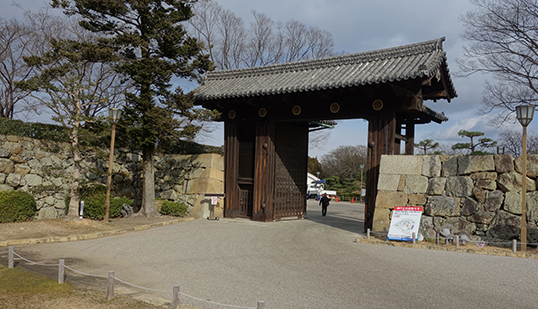 Otemon Gate (main entrance)
1.Review Our Terms of Use and Privacy Policy
2. Push "Request Form" button if you agree with the policy.
Notice!

[A. Covid-19]
Visitors should decide whether to wear a mask. However, Himeji Castle staff will continue to wear masks.
[B:Quick response to the mail]
We would appreciate it if you could return our mail, hopefully within two days.
Questionnaire & Comments
After your tour is complete, you may receive a questionnaire by e-mail. We would appreciate if you could take a few moments to fill out and send back to us. Your feedback will greatly help us to improve our future service.